Minsk International Airport Also known as Minsk National Airport and Minsk 2 Airport. Minsk Airport Code – MSQ. The distance from Minsk Airport to city centre is 45 km. The Minsk airport was reconstructed in 2014. Nowdays Minsk airport is under reconstruction again, the second runway is being built.
How to get from MSQ Minsk Airport to City Center?
There are 2 ways to get from Minsk airport to city center: by bus or by taxi. Check bus schedule or book online a taxi from Minsk airport to city center by premium brand car with English speaking driver, bottled water and meet&greet service in the airport arrival area just from €30 on our website. If you do not trust us, trust over 100 5-star reviews from our customers in Google and TripAdvisor.
Taxi from Minsk Airport to City Center
The fastest and most convenient way to get from the Minsk airport to city center is a taxi. You can book online a taxi from Minsk airport to city center, any hotel and apartments in Minsk or any destination point around Belarus with fixed price and English speaking driver using booking form on our home page or by phone +375296610133 (WhatsUp, Viber, Telegram).  In our fleet only premium brand cars (BMW 5-Series, Lexus IS).
The journey time by taxi from Minsk airport to city center is about 40 minutes. When you book a taxi from Minsk airport to city center in our company you can pay to the driver in EUR, USD, GBP, RUR, BYN.
Minsk Airport Taxi Services
Be careful! At the airport entrance many illigal airport taxi services!
More precisely, they are legal, but their prices unreasonably high. The cost of the trip from the Minsk airport to city center with these airport taxi services is 2 or more times higher and can reach 100 euros. We read a lot of stories in TripAdvisor forum about travelers who got into this trap and paid 50 euros and more.
The drivers of such taxi services do not speak English, their cars are mostly older than 10 years and they haven't insurance. It means in case of a traffic accident you will not get an insurance payment.
There are a lot of taxi services in Minsk. But be careful! Do not use a taxi found on the street! Try to book a taxi in Minsk by phone, through a mobile app, ask the hotel or restaurant administrator to book a taxi for you – this will guarantees you a low and fair fare of your trip. Minsk taxi services have freedom of pricing. If you stop a taxi on the street its driver has the right to set any cost for a 1 km of the trip, as individual entrepreneur and this can be 1, 3, 5 or even 10 euros per 1 km.
Public Transport – Bus. Bus Schedule.
Bus route number 300Э goes from the Minsk Airport to city center. The final stop is located at the Central Bus Station (Centralniy). Central Bus Station is located 100 meters from the railway station (Minsk Passazhirskiy).
The cost of the trip on the bus is 4 BYN (2 EUR, 2.20 USD, 1.8 GBP, 120 RUR). You can buy ticket in the ticket sale terminal located in the airport terminal, from the ticket agent in the bus, from the bus driver during bus stop or online on the website www.ticketbus.by (No English version, only Russian). Travel time is 70-80 minutes. The bus stop at the National Airport Minsk is located in the 5-6 sector. Bus timetable from Minsk airport to city center: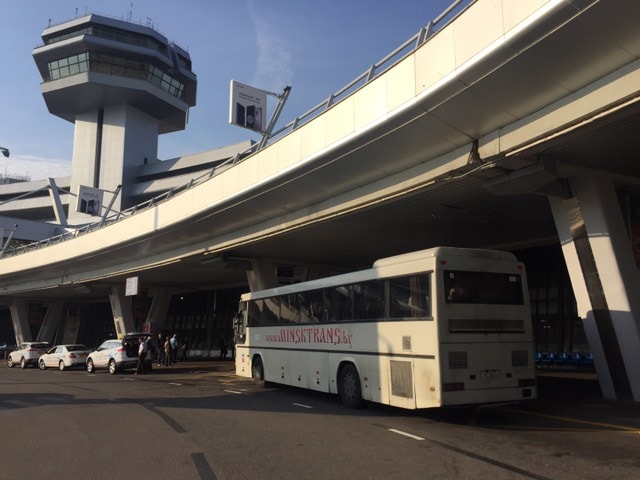 | Departure from Bus Station "Centralniy" | Departure from the National Airport Minsk |
| --- | --- |
| 2.40, 3.50, 4.50, 6.05, 6.45, 7.45, 8.25, 9.05, 10.05, 10.45, 11.25, 12.05, 13.00, 13.40, 14.20, 15.00, 15.40, 16.20, 17.00, 17.40, 18.40, 19.20, 20.00, 20.45, 21.50, 22.40, 0.40. | 4.50, 6.25, 7.20, 8.00, 9.00, 9.40, 10.20, 11.20, 12.00, 12.40, 13.20, 14.20, 15.00, 15.40, 16.20, 17.00, 17.40, 18.20, 19.00, 20.00,20.40, 21.20, 22.05, 23.00, 0.05, 1.45, 3.40. |
Public transport – Metro. Minsk Metro Map
The Minsk metro has 2 branches – Moskovskaya and Avtozavodskaya. But metro does not go to the airport. Nearest metro station to the airport is Urucca. It is located on the outskirts of the city in a residential area about 35 kilometers from the airport. The cost of the trip on the metro is 0.60 BYN (0.3 EUR, 0.35 USD, 0.25 GBP, 20 RUR). You can buy ticket in the ticket vending machines at the metro stations. Minsk Metro Map: